The Race for Global COVID-19 Vaccine Equity
A flurry of nearly 200 COVID-19 vaccine candidates are moving forward through the development and clinical trials processes at unprecedented speed; more than ten candidates are already in Phase 3 large-scale trials and several have received emergency or limited authorization. Our team has aggregated and analyzed publicly available data to track the flow of procurement and manufacturing and better understand global equity challenges. We developed a data framework of relevant variables and conducted desk research of publicly available information to identify COVID vaccine candidates and status, deals and ongoing negotiations for procurement and manufacturing, COVID burden by country, and allocation and distribution plans. We have also conducted interviews with public officials in key countries to better understand the context and challenges facing vaccine allocation and distribution
See our COVID Vaccine Procurement research
See our COVID Vaccine Manufacturing research
---
Featured Publications
Read our April 15, 2021 paper on Reducing Global COVID Vaccine Shortages: New Research and Recommendations for US Leadership:
A small number of high- and middle-income nations and regions including the United States (US), United Kingdom (UK), the European Union (EU), China, and India account for the majority of COVID-19 vaccines administered thus far. The uneven global distribution of COVID-19 vaccines has raised concerns and spurred demand for action to ensure equitable access, including growing calls to waive intellectual property protections. There are a number of challenges to scaling-up global access beyond intellectual property barriers, and addressing these challenges requires a multi-pronged, coordinated approach. Leadership from the US on safe, effective, and equitable global access to COVID-19 vaccines is imperative.

In this paper, we present the scope of the global vaccine access challenge, and propose a complementary three-part US-led solution that: 1) increases and leverages funding for the global effort to advance vaccine access through COVAX; 2) undertakes coordinated bilateral and multilateral mechanisms to provide excess doses to countries in need; and 3) increases safe and reliable manufacturing and distribution capacity.
Read our March 19, 2021 Issue Brief: Deciphering the Manufacturing Landscape for COVID-19 Vaccines.
Read our November 2, 2020 Press Release on COVID-10 Vaccine Advance Market Commitments.
Our research has recently been featured in The New York Times, The Washington Post, The Economist, Bloomberg, and The Guardian and many other outlets, including El Diario in Spain, as well as Al Jazeera. View and listen to these brief commentaries from our research team on BBC, NPR, NYPoficial (Paraguay) and ABC News.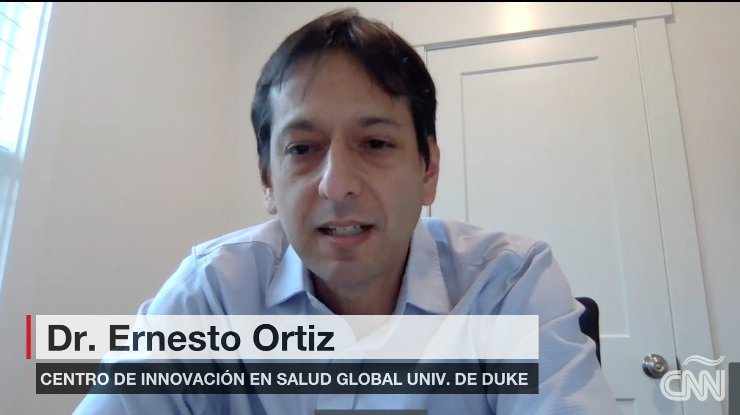 Dr. Ernesto Ortiz, Senior Manager - CNN Espanol, February 22, 2021
For Media Requests please email Jessica Harris at j.harris@duke.edu or call + 1 919 668 7923.
---
These data and analyses are updated every week. We are tracking the data to the best of our ability, though there may be gaps given the speed of developments and lack of detailed information in many public statements.

Suggested citation: Duke Global Health Innovation Center. (2021). Launch and Scale Speedometer. Duke University. Retrieved from: https://launchandscalefaster.org/covid-19

Except where otherwise noted, this work is licensed under a Creative Commons Attribution-NonCommercial-ShareAlike 4.0 International License.